Slice and Dice the Boring Gifts: Why a Knife is Dad's Ultimate Father's Daydream

Father's Day is just around the corner, and if you're searching for a gift that truly speaks to your dad's passion for cooking, look no further than The Caveman Style's exceptional knives. We offer a wide selection of high-quality knives that will take your dad's culinary prowess to the next level. In this gift guide, we'll introduce you to some of our standout knives and share details about our special Father's Day promotion: buy 2 knives and get 1 free! Don't miss this opportunity to delight your dad with the perfect gift.
1: Versatility in the Kitchen
A knife is the cornerstone of every chef's arsenal, allowing them to execute precise cuts and control over their ingredients. By gifting your dad a high-quality knife, you're empowering him to slice, dice, and chop with precision, enhancing the overall cooking experience.
2: Precision and Control
Knives are incredibly versatile tools that can handle a wide range of culinary tasks. From mincing herbs to slicing meats and vegetables, a well-crafted knife can effortlessly adapt to any cooking style or recipe. It becomes an extension of your dad's hand, enabling him to explore new techniques and flavors in the kitchen.
3: Personalization and Sentiment
A knife can be more than just a kitchen tool; it can be a deeply personal gift that reflects your dad's personality and preferences. Consider engraving his name or a meaningful message on the blade to add a touch of sentimentality. This personalization elevates the gift from a practical tool to a cherished heirloom that holds sentimental value.
4: Durability and Longevity
Unlike many other gifts, a quality knife is built to last. By choosing a knife made from robust materials and expert craftsmanship, you're giving your dad a gift that will accompany him in the kitchen for years to come. Every time he reaches for that knife, he'll be reminded of your thoughtful gesture and the lasting bond you share.
Father's Day Knife Gift Ideas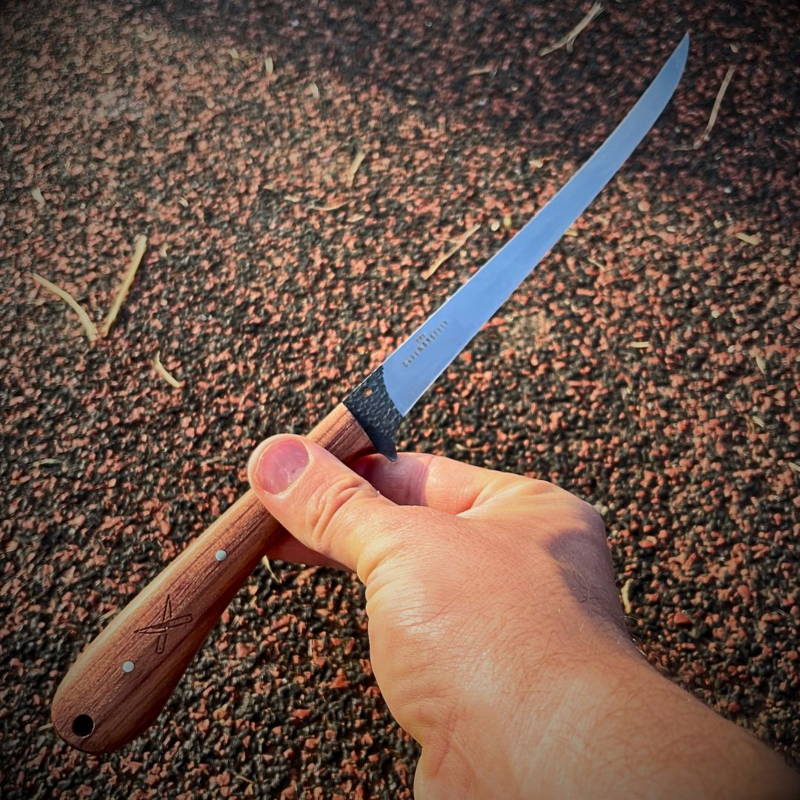 A Fillet Knife: Perfect Precision for Seafood Lovers
If your dad enjoys preparing fresh seafood, our Wildman Fillet Knife is a must-have tool in his kitchen. Designed with precision in mind, this knife features a razor-sharp stainless steel blade that effortlessly glides through delicate fish fillets. Its ergonomic handle ensures optimal control and comfort during use. Give your dad the gift of perfect filleting with the Wildman Fillet Knife. Explore it here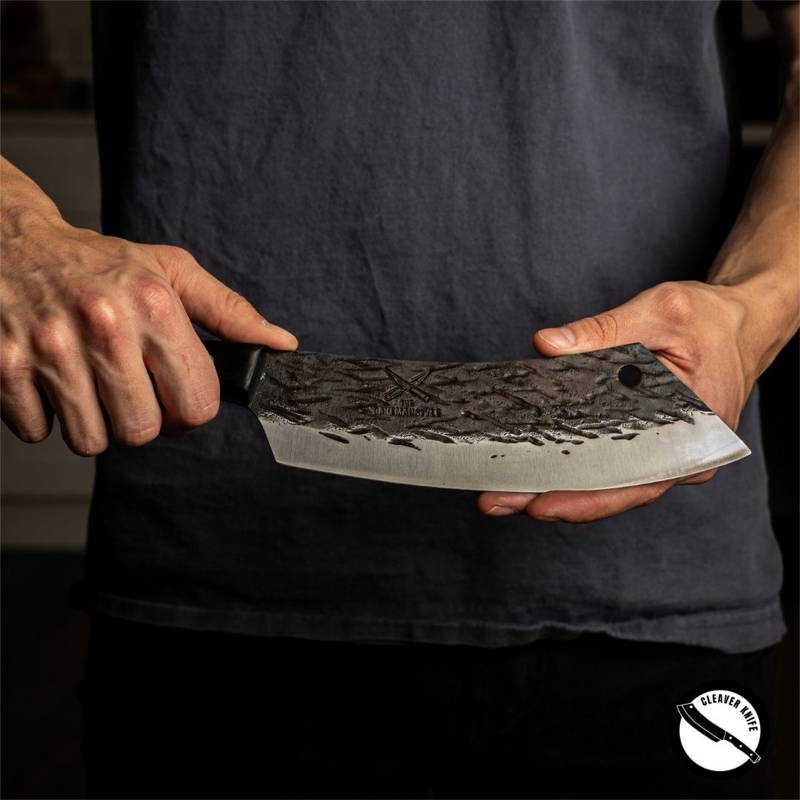 Unleash Raw Power and Versatility
The Caveman Cleaver is a symbol of raw power and versatility in the kitchen. Its broad, heavy blade is designed to handle a variety of cutting tasks with ease, from chopping through bones to crushing garlic. Whether your dad is a professional chef or a passionate home cook, the Caveman Cleaver is an indispensable tool. Explore the Caveman Cleaver here.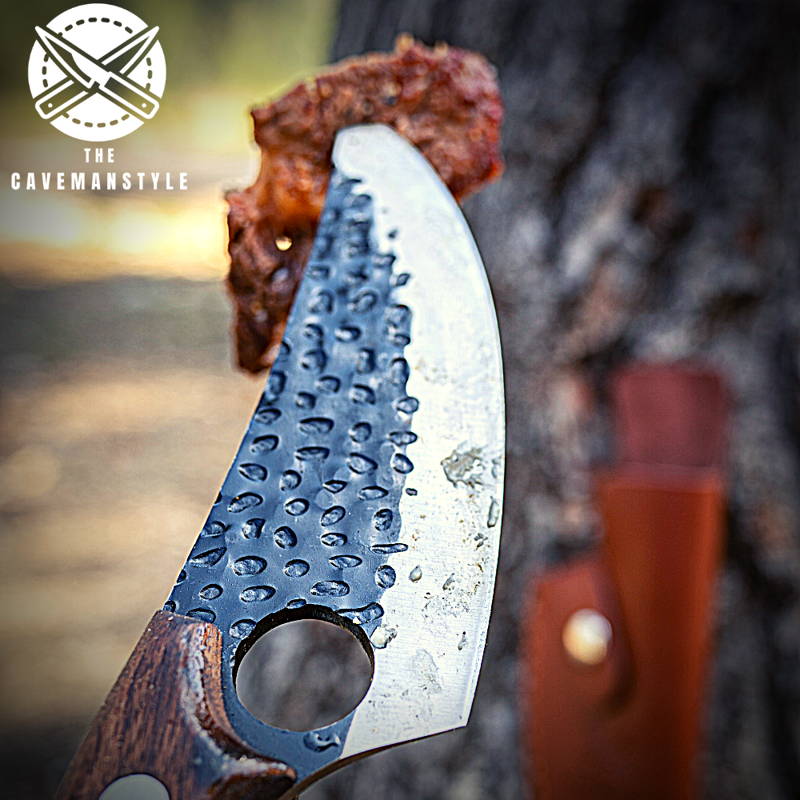 Unleash Dad's Inner Meat Maestro
For the dad who loves to tackle meat cutting challenges, the Ultimo 1.0 knife is the perfect companion. This knife is engineered to perfection, combining a sharp blade with a sturdy construction that effortlessly slices through even the toughest cuts of meat. With the Ultimo 1.0, your dad will elevate his meat-cutting game to new heights. Discover the Ultimo1.0 here.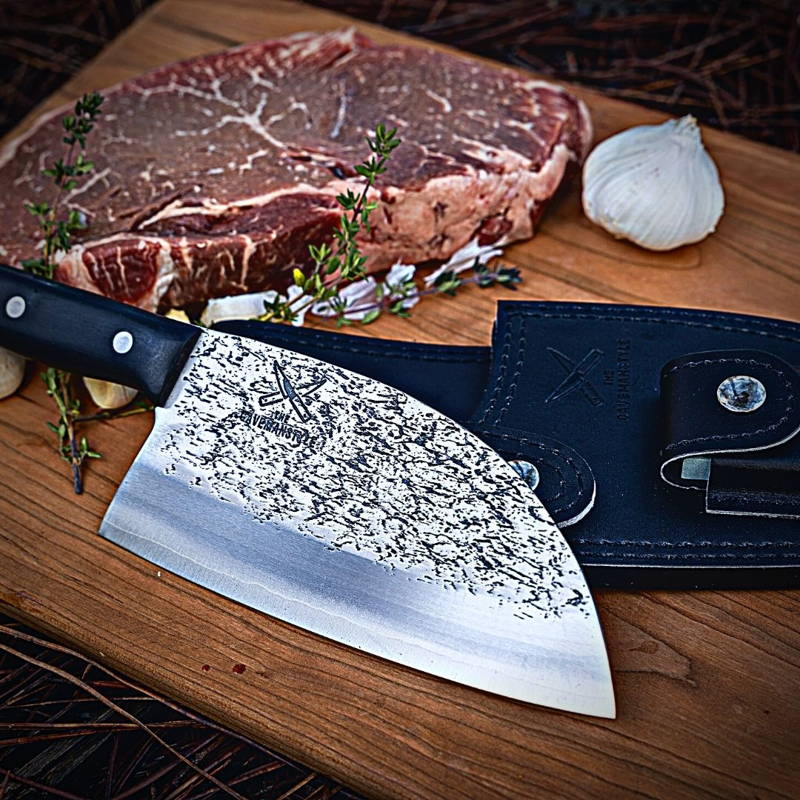 Limited Edition Elegance and Craftsmanship
If you're looking to impress your dad with a truly special gift, the Serbian 2.0 knife is an excellent choice. Meticulously handcrafted and available in limited quantities, this knife combines traditional craftsmanship with modern design elements. The Serbian 2.0 is not only a functional tool but also a work of art that your dad will cherish.Explore the Serbian 2.0 here.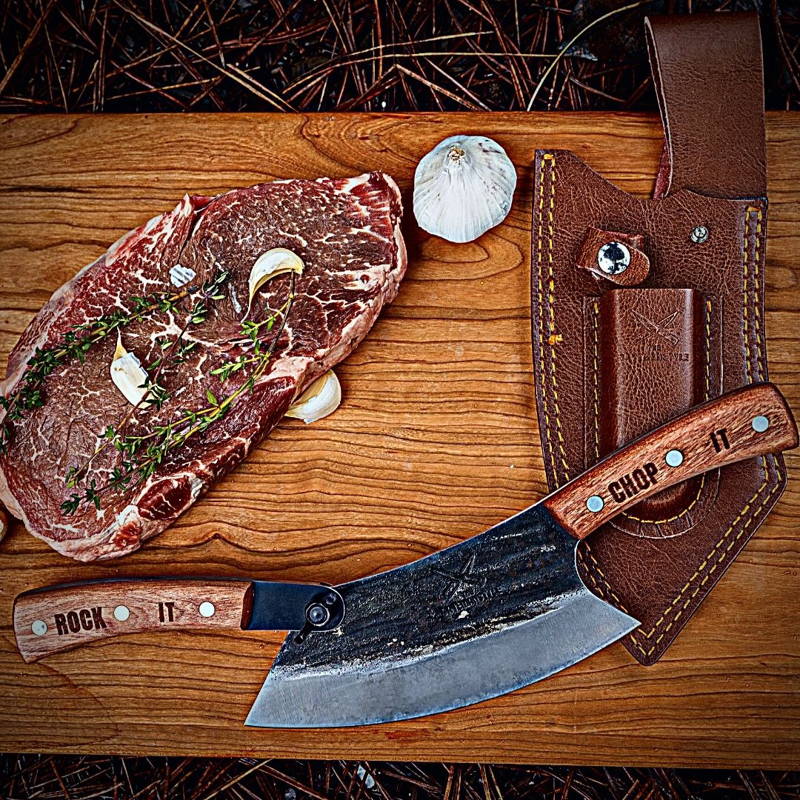 Effortless Precision for Every Chop
Experience the seamless rocking motion of our Rocking Chopper. Designed with double handles, this knife revolutionizes the way your dad chops and minces ingredients. Its curved blade and ergonomic handles provide superior control and comfort, allowing your dad to prepare meals with precision and speed. Discover the Rocking Chopper here.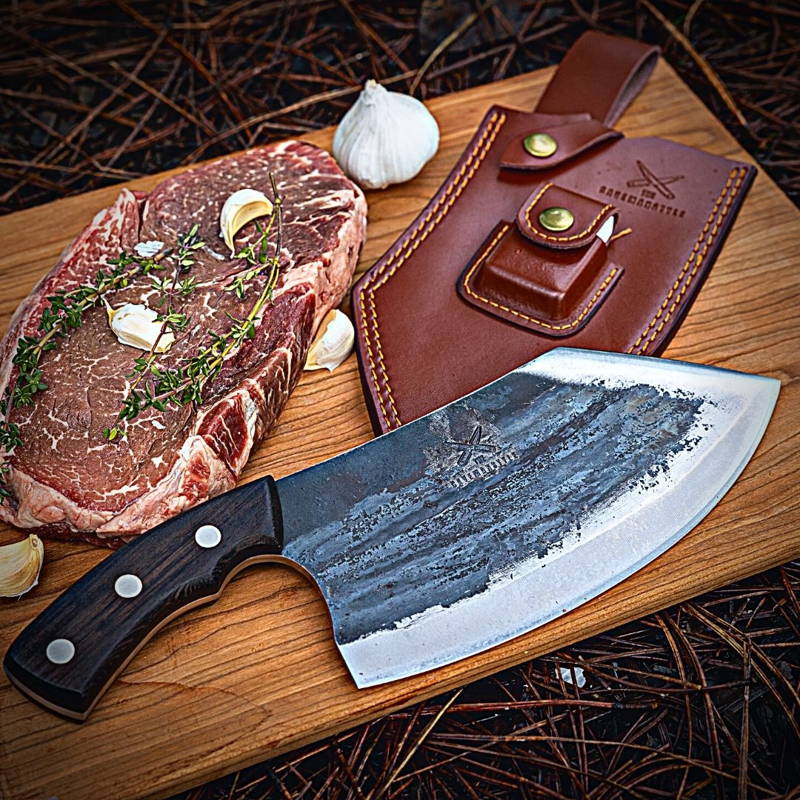 Conquer Every Cutting Challenge
For the dad who loves taking on any cutting challenge, the Alpha Chopper is the ultimate companion. With its robust construction and razor-sharp blade, this knife can tackle anything from large cuts of meat to hearty vegetables. Give your dad the confidence to conquer every culinary endeavor with the Alpha Chopper.Discover the Alpha Chopper here.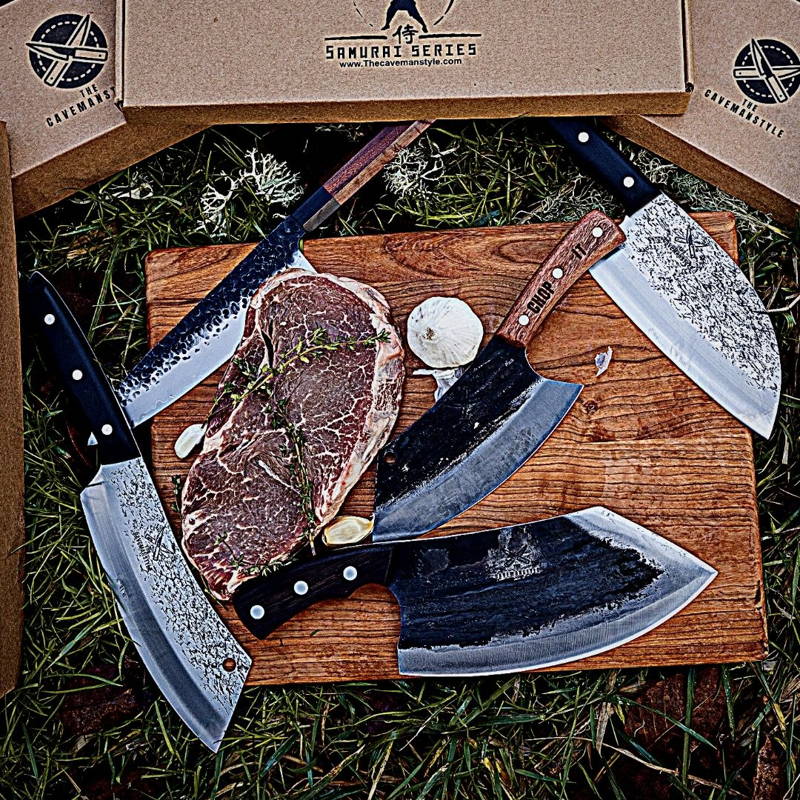 Buy 2 Knives, Get 1 Free!
To make this Father's Day truly unforgettable, take advantage of our special promotion

Buy any 2 knives from our collection and get 1 additional knife absolutely free!
Explore our full range of exceptional knives and shop with confidence, knowing that you're giving your dad a gift that will enhance his cooking experience for years to come. Don't miss out on this limited-time offer;
visit our Father's Day promotion page here.
Make this Father's Day a celebration of your dad's culinary passion with the perfect knife from The Caveman Style. Our exceptional knives are not just tools; they are an embodiment of quality, craftsmanship, and the love you have for your dad. Shop nowand give him a gift he will truly cherish.